The Worst Person in the World Hits Bookstores in September
OlbyWatch Trivia: see if you can figure out who is missing from the list of WPITW winners in the bookseller's notice below.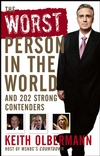 Here's the bookseller notice (edited for brevity):
"During each edition of Countdown, Olbermann has a segment called The Worst Person in the World, in which he gives out bronze, silver and gold medals to the people who demonstrated that day just low humans can sink morally, socially or politically. He already has 120 pieces, which we ll combine with a brief intro (1000 words) on his methodology in choosing the worst people, as well as his thoughts on just what is wrong with them.
Recent gold-medalists include: Robert Novak, Tom Cruise, Paula Jones, Brit Hume, Paul Eibler (makes Grand Theft Auto ), Liz Beattie (teacher wants to eliminate failing grades), the organizers of a water-gun tournament in NYC, pitchers Kenny Rogers and Livan Hernandez, Councillor Lim Kit Sing of Hong Kong, Amber Frey, Ann Coulter, Victoria Gotti, Geraldo Rivera, and FEMA spokesperson Mary Hudak, plus a half-dozen idiot criminals.