Who is Merkle923?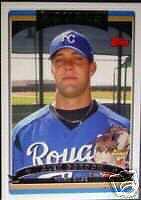 Alex Gordan is a 25 year old baseball player in the lowly Kansas City Royals baseball organization. Without playing a game in the majors, Gordan has achieved iconic status in the world of baseball card collecting (his rookie card is selling for thousands of dollars on eBay) by failing in the world of professional baseball (failing to make the Royals 25-man roster and being sent to the minors).
Enter Keith Olbermann, baseball card collector extraordinaire.
We here at OlbermannWatch prefer to confine ourselves to Keith Olbermann's public life - what he says and does on TV and in the press regarding his public persona. We've known for some time that Keith is a major league baseball card collector (pardon the pun) and active eBay'er but have left that issue off the table because it's a private matter. In fairness to Keith, he's worked very hard to build his reputation on eBay (he is graded as one of the best buyers on eBay) and there was no reason for OlbyWatch to muck around with that.
Recently, however, Keith's personal passion has erupted in a very public controversy which has the baseball card collecting world abuzz with speculation, wondering whether Keith Olbermann may have connived with Topps, a publicly traded company that is, among other things, the oldest of the MLB licensed manufacturers of baseball cards, and retailing giant Walmart. The aim? To peak renewed interest in baseball card collecting by creating a run on unopened boxes of Topps cards at Walmart and boosting sales of Topps cards. There's no telling whether there is any merit to these claims but Olbermann certainly has more than a passing interest in all of this. Not only is KO an avid collector who would stand to benefit from a run up on baseball card prices but he is (or has been) employed by Topps as a writer and an "advisor".
So who is Alex Gordan and what does he have to do with Keith Olbermann?
Alex Gordan was drafted by the Royals in 2005 (#2 overall pick) after leading the University of Nebraska baseball team to the College World Series championship. He did not sign a contract until last September. Meanwhile, about a year ago, the Major League Baseball Players Association decided that card manufacturers could only make rookie cards for players who either made the 25-man roster or played in a major league game the season before. Gordon didn't qualify on either count. Topps apparently did not get the memo. They printed a limited number of the Alex Gordon card number 297 and shipped them to Walmart. When the mistake was discovered, Topps was forced to pull the card from its set, turning Alex Gordan's "rookie" card it into a coveted "error card".
Tuff Stuff, a leading card collecting "zine", recently questioned whether Olbermann had sought to artificially inflate the value of the Gordan card.
MSNBC's Olbermann pursuing Topps Gordon cards
[Olbermann] paid $7,500 in an online auction for a BGS 9.5 version of the Gordon Topps No. 297 card that was pulled by Topps because of the new rules concerning what constitutes a "rookie card."...Olbermann has spent more than $60,000 in the past month. Since he's entered the bidding for Topps Heritage cards, he's helped drive the final price from auctions closing at around $100 all the way up to $275 in the past couple weeks. He's purchased eight of the last 11 sold on eBay and a total of 10.
"Well, clearly I didn't 'single-handedly pump' the 2006 Topps No. 297," Olbermann told Tuff Stuff in an e-mail. "But, obviously, after I started buying copies the hobby realized the actual scarcity and implications of Topps withdrawing an already-published number, which they've never done before."
Tuff Stuff apparently based its reporting on the activities of eBay User ID Merkle923, one of the most aggressive buyers of baseball cards on eBay. Merkle923 has been buying on eBay for more than seven years, completing close to 600 transactions and leaving in his (or her) wake a trail of satisfied eBay sellers. Merkle923 has completed 572 transactions with 99.7% of eBay'ers leaving positive feedback such as "Great transaction", "Very fast payment" and "a pleasure to deal with"
So, is Merkle923 actually Keith Olbermann?
To understand this question you need to know more about Fred Merkle. According to Wikipedia, the former New York Giants first baseman, committed an "infamous baserunning gaffe that cost the Giants the 1908 pennant" that became known as Merkle's Boner which ""can be used to describe any mental error that costs a team the game". In a game against the Chicago Cubs on September 23, 1908 ("923"), Merkle was on first base when a base hit scored a runner from third base. With the winning run safely home, Merkle failed to run all the way to second base, instead turning and running off into right field towards the Giants clubhouse as delirious Giants' fans stormed the field. Cubs second baseman Johnny Evers called for the ball and stepped on second base. After an appeal, umpires ruled Merkle "out", negating the run, and ending the game in a 1-1 tie. When the Cubs and the Giants finished the season tied for first place the game was replayed, the Cubs won (4-2) and took the National League pennant (they lost to the Detroit Tigers in the World Series).
So what does "Merkle's Boner" have to do with Keith?
Beyond being a recognized baseball historian (the list of first and third base coaches he compiled in his school days now sits at the Baseball Hall of Fame in Cooperstown, NY), KO is apparently fascinated with this play, even writing a foreword to the book "More Than Merkle: A History of the Best and Most Exciting Baseball Season in Human History" by David Anderson. Who knows? Maybe KO feels a special kinship with Merkle after his own "baserunning error" - a serious injury that occurred when KO banged his head running for the number 7 train at Shea Stadium (the Mets were MLB's "replacement" for Merkle's Giants and the Brooklyn Dodgers. NOTE: the Mets team colors combine Dodger blue with Giants orange).
Certainly, eBay sellers and Topps traders believe merkle923 is Keith.
Clicking through the past seven years of transaction history, feedback includes the following: "Keith, I hope you enjoy your PSA 7 Old Judge....more than your others! : ) A+ps~", "thanks for fast payment Keith!", "Keith is the man! thanks a million, a asset to the ebay community", "Keith was Enfuego with this transaction. Super fast. An asset to Ebay !!!!!!!", "Excellent Repeat Buyer! Thanks Again Keith!", "Very fast payment!!!!! Thanks Keith. Good luck on completing the set.", "Extremely fast payment..Asset to ebay & FOX sports..thanks Keith!!!!!!", "Fast Payment & A Class Act from a Great Sportscaster - THANKS AGAIN!!", "great transaction. quick payment thanks!! a++ FOX sports rules", "One of the fastest on Ebay! Great to deal with! A+++ Thanks Keith", "# 1 as a Sports Show Host >>>>> #1 as an eBayer.Thanks for the Honor kind Sir.", "Fast Payment..great transaction..hope to deal with again...Thanks Keith", "I see a promising future in sports journalism for this young man", "Smooth Transaction! Thanks Keith", "Extremely prompt with the payment! Thank you Keith! Keep up the great lines!", "very fast payment!!! Keep up the good work at Fox!!! Thanks Keith", "Keith is proof that no one is too busy to enjoy eBay. Nice to connect with you.", "Very fast payment!!! Excellent ebayer!! Thanks Keith!!", "Fast Pay! Good Communication! Would Reccommend! Thanks Keith!" "Very professional, fast payment, A # 1 no matter what dan patrick says", "Very timely payment, a pleasure to deal with !!! --- thanks Keith...", "fast payment thanks Keith", "He hits the ball real hard! Thanks Keith it was a pleasure!", "I BLINKED AND PAYMENT WAS HERE....THANKS KEITH ! AAA+++", "Another smooooooth transaction from a GREAT repeat bidder!! Thanks Keith!!", "VERY FAST PAYMENT! HIGHLY RECOMMENDED BY THIS EBAY SELLER! A++! THANKS, KEITH!",
Could all these eBay'ers be mistaken?
Perhaps, but the most telling evidence is contained in the ebay Member User ID history for merkle923 which reveals that on May 30, 1999 merkle923 changed his User ID from "olbermann". More interesting is this feedback from eBay User ID "billy1954packers4yankees7pongo18", one of a handful of negative comments about merkle923:
"ITEM PERFECT,STATES HEWORKS FOR NBC,CANT GIVE FEEDBACK,SO HE NEG'S ME,NICE GUY...LIAR,SAYS HE WORKS FOR NBC,BIG SHOT,THREATEDSME FOR FEEDBACK,BEWARE,SCAMMER,DUMM...BEWARE LIAR THREATING EMAILS,NBC EMPLOYEE,SHOULDBE FIREDRUDE DUDE NBC BIGSHOT AS..."
Works for NBC? Playing the big shot? Threatening people?
Hmmmmm. Sound like anyone we know?
There seems to be little doubt that merkle923 is, in fact, Keith Olbermann. The real question is whether there is any merit to the speculation out there that Keith some how conspired with Topps or Walmart to drive up prices. One certainly has to wonder whether KO leveraged his "insider" status with Topps to gain any unfair advantage in the high-priced world of rare baseball cards.